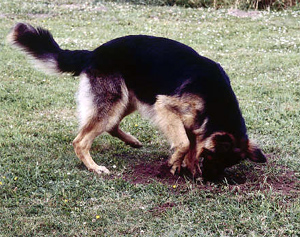 Digging is used to uncover prey in underground burrows, and is useful to bury food, which is later retrieved and consumed. Dogs also dig to create a cavity in the snow or earth for shelter from the wind and to conserve body heat.

In warmer weather, an excavation may keep the dog cool. Some dogs dig before urination or defecation. Dominant adult dogs kick up soil with the hind legs, perhaps to disperse its scent and increase territorial marking. Glands in the footpads mark the soil with scent during digging.

Even indoors, many dogs appear to dig in preparing a place to rest. This form of digging behavior is usually not destructive, though over time your carpet may be worn down. Digging is usually not considered a problem unless it destroys property.

To prevent your dog from digging, you must control opportunities to dig and provide the dog with alternative activities that are equally enjoyable and physically challenging. If your dog digs in your backyard, restrict access to that area. Ideally, your dog should not be left unsupervised in your yard, regardless of any misbehavior. Your dog will be less likely to expend energy by digging if it is walked at regular intervals every day and has a variety of appropriate physical activities to pursue.