GÜNBIL GERMAN SHEPHERDS PROFESSIONAL DOG TRAINING - OUR DOG TRAINING WEBSITE CLICK HERE.
Our "professional" Schutzhund trainers in Germany have obtain many titles with TOP world-class German shepherd dogs in the field of schutzhund.

Our accomplishments are proven and shown in the "Sieger" shows all over the world. This is our full time job and not a weekend adventure.

If your serious about titling your German shepherd dog in all phases of Schutzhund, we can help you obtain your goal.

Our Master Schutzhund trainer Günter and his son with our dog Palma and Amigo in Germany...

Picture: Günter (master schutzhund trainer FOR 30 YEARS) and his helper (son) with our dog Amigo von Gunbil (SCHH3/KKL1) and Palma SchH3/Kkl1. Both titled in SchH3 and have there breed certificates in Germany.

The German Shepherd is one of the most preferred dogs "in the world" with the dog trainers. The "real" German Shepherd dog will adapt to any situation, eager to please and takes pride in it's working ability, extremely intelligent, courageous with outmost confident, self assured and brave with unmatched loyalty.

WE OFFER SCHUTZHUND TRAINING & TITLING YOUR GERMAN SHEPHERD DOG - TITLING gsd'S FOR 30 YEARS!
| | | |
| --- | --- | --- |
| | | |
| zorro schh3/kkl1/a1/a1 | robby schh3/kkl1/a1/a1 | igor schh3/kkl1/a1/a1 |
| | | |
| hassan schh3/kkl1/a1/a1 | held schh3/kkl1 | AMIGO schh3/kkl1/A1/A1 |


PLEASE CLICK ON THE GERMAN SHEPHERD DOG AND PUPPY TRAINING OPTIONS BELOW (USA ONLY)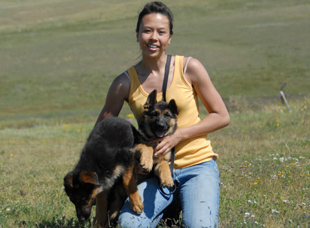 Dog training is a procedure in teaching a dog to perform in a acceptable manner on how he is to perform his daily or specialized tasks with certain actions in response to certain commands which the dog is trained to understand.

There are many teaching techniques from basic, specialized and advanced dog training.

At PUREBRED DOG TRAINING (A division of Gunbil Dog Training - USA), we can offer you and your dog a full service dog training and back it up with a guarantee that is a trademark of our character... PLEASE CLICK HERE.

PLEASE --> Do not alter your puppy's diet as changing environment is a stressful experience and feeding the right diet is important. When your puppy arrives in his new home it may show signs of stomach upsets and diarrhea because of leaving his mother and entering a strange new atmosphere. If the puppy does have diarrhea and this persists for more than 24 hours or becomes more severe, consult your veterinarian. If you want to change his diet, wait until your puppy has settled in, then gradually change it over a period of five to seven days.

A puppy should be kept lean during 4 to 8 months of age (rapid growth phase), BUT they should not appear thin.