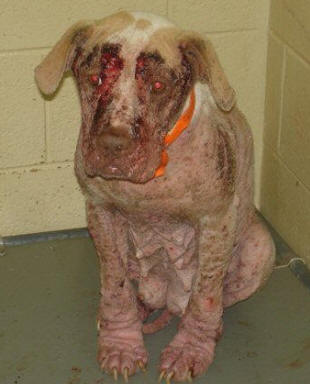 Treatment might include any or all of the following: topical ointment, dip, medicated shampoo, oral antibiotics and other medications, in resistant or recurring cases.
The localized form is usually treated with topical medication. The generalized form requires shampoo therapy and a special dip or oral medication. Shampooing with special cleansing shampoos helps flush out the hair follicles prior to dipping. The dip commonly used for demodectic mange contains the insecticide amitraz.
It may produce some side-effects for both you and your dog, if it is not used properly. Your dog may experience vomiting and sedation for 24-36 hours following each application. If so, those problems will usually be self-limiting.
If this occurs, the dip should be diluted with 25% more water the next time it is used. Since each dipping results in greater tolerance to the dip, your dog is less likely to have side effects with each subsequent treatment. If you do the dipping yourself, be sure to wear rubber gloves to prevent getting it on your hands.
Your veterinarian will perform multiple skin scrapings over the course of treatment to ensure eradication of the mites. Because the treatment for mange can be quite intensive, you can arrange with your veterinarian to perform the dips on a regular basis.