Puppy Package: $288.00
Tug games can increase confidence (need to also teach an "out" command). Patience and consistency are key. Remove emotion, especially disappointment or anger! Teach a "watch me" command – watching you will keep your dog safe. Instigate a game of tug of war with the puppy. Begin gently at first and allow him to instigate any rough play. Shake the towel in front of him and tell him, "get it". When the puppy takes the towel into his mouth and pulls, release the towel and LET him win. Then praise him generously, "good boy!".

Leather Puppy Bite Tug. Leather Bite Rag with Handle. Designed for starting your pup or young dog in basic bite work which will build stronger character and improve his confidence. The soft sham material is easy for your puppy to bite and encourages a strong confident grip. It is stitched to keep its form and has a handle on one end to pull and fight with your pup.
Antlers used as dog chews generally come from deer and elk. Moose antler is also available but because it is so flat it does not make an ideal dog chew. Deer grow a new pair of antlers each year from the time they are a year old. Antlers begin as layers of cartilage that slowly mineralize into bone.
Chewy treat for large-sized dogs; great for even the most aggressive chewer. Healthy, delicious snack that your dog will love. Completely digestible, carefully roasted to ensure optimal quality and flavor. All natural with no preservatives, additives, or artificial colors; free of wheat, corn, and soy.

German shepherd puppy toy stuff, built a confident puppy with the right gear for your confident puppy gear, confident puppy, dog potty training bell, Puppy training gear, expert puppy, good puppy gear.

5 year guarantee:

We're so confident in our World Class Gunbil German shepherd breeding program that we can offer you a "WORRY FREE" 5 (FIVE year)

health &

temperament guarantee

! More Info Click Here.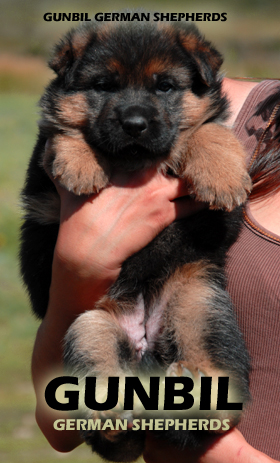 At Gunbil German shepherd puppies, we evaluate our puppies with the DRIVE behavior and characteristic profile. THIS ENABLES US TO INCORPORATE THE UNIQUE CHARACTERISTICS OF EACH PUPPY WITH THE NEW OWNERS PROFILE AND REQUEST ON THE SPECIAL TRAITS THAT THEY WANT FROM THEIR NEW PUPPY.