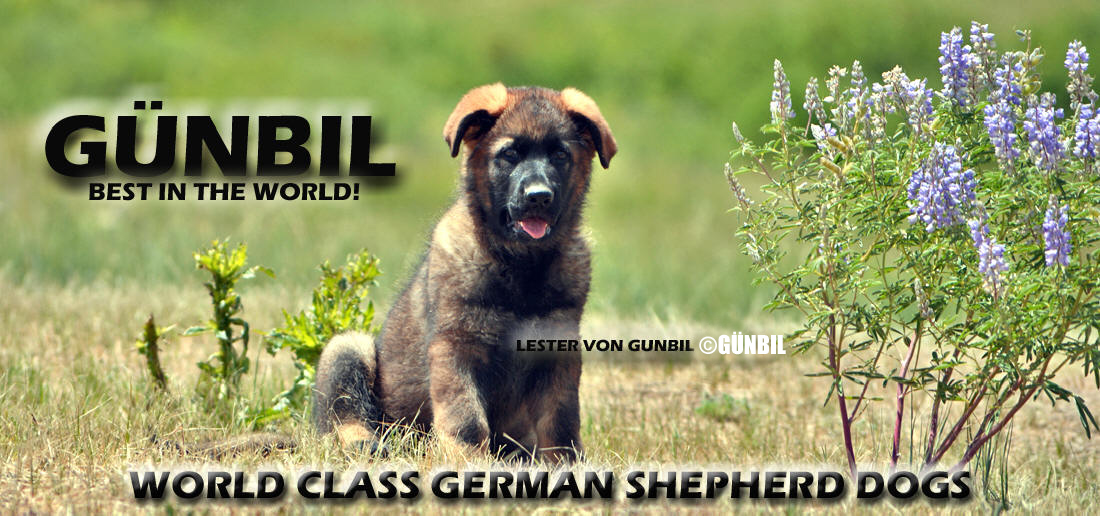 trained german shepherd puppies for sale

We are "von Günbil" - TEAM GÜNBIL and GÜNBIL ROCHELE an SV Registered PUREBRED working/showline German shepherd breeder in Germany offering truly the BEST working line German shepherds in the world! We offer you our world-class expertise, superior knowledge, TOP working class dogs in the world with absolutely Clear-In-The-Head character, stable nerves and safe nature dogs! With my German Partners we have over 48 YEARS EXPERIENCE in COMPETING, breeding, improving with perfection the working/showline German shepherd dog!

We breed with the highest standard, TOP level breeding with TOP-WORLD-CHAMPION working LINE German shepherd dogs offered only in Germany. Our working German Shepherd puppies are recommended for all aspects of Police work, Narcotics Detection, Explosives Detection, Officer Protection, Military, Tracking, Cadaver Detection, Working Dog, Sport Dog, Guard Dog and naturally Family Protection Dogs! These dogs were bred for this purpose, absolutely clear in the head, have the natural desire to work a little harder than our show line dogs.

Our "Günbil Imports" PUREBRED WORKING line puppies come with great dispositions, social behaviors, and have natural protection drives to compete in any arena world wide, GUARANTEED! We're so confident and assured in our World Class "PUREBRED Working Line German Shepherd" breeding program that we can offer you a FIVE (5) year genetic HEALTH and TEMPERAMENT Guarantee!

Our five year guarantee is for your peace of mind, our commitment to you and your new puppy/dog - We believe in our "Günbil German Shepherds" breeding program, you should too!


Gunbil Rochele import puppies from Germany -

Excellent Litter!

Novemebr, 28, 2016
4,888.00




Litter Profile

Date of birth
September 3, 2016 -

sorry litter is sold

Country of origin
gunbil imports (Germany)
gernder / intact
female
Pedigree Link
pedigree information - click here
Color / coat type
black / staock coat
Questions
Purchase Puppy

Stud Profile

: Spirited, black, expressive, powerful male with high withers. Straight back, long enough croup of very good position. Correct angulations in front and hind leg, balanced chest proportions, straight front and step sequence. Very harmonious movement in the right equilibrium with correct power- transmission. Safe nature, UCB pronouncedly;. V. Very attentive, black male with demonstrative work willingness.. VI. Suitable for the improvement of the expression, the strength and the position of withers.



Dam Profile

: Medium size, strong, strong head, good topline, good front: good angulation - very good back with good angulation good chest formation, effective, safe nature TSB: pronouncedly Bella has a well adjusted character, by work she is powerful with high drive and high self-confidence.

Puppies are from our Günbil Imports!!

---
When you consider your import puppy selection from von Team Gunbil German Shepherds in Frankfurt (area), Germany and from our vom Haus Gunbil Rochele in Munich (area), Germany, you are truly getting the BEST possible German shepherd i

mport puppies

in the world. We are so confident in our breeding program that we can back-it-up with a FULL FIVE YEAR (5 YEARS) HEALTH and TEMPERAMENT guarantee.

We believe that all breeders should be this confident and have trust in their breeding program as we do and offer an identical 5 YEAR guarantee as mention above. After-all when you claim to be the BEST, you should back it up with a service that supports your character and your integrity. Our five year guarantee is for your peace of mind, our commitment to you and your new puppy/dog.
---
| | | | | | | | |
| --- | --- | --- | --- | --- | --- | --- | --- |
| | | 720.733.0222 | | | | | 348,444 |