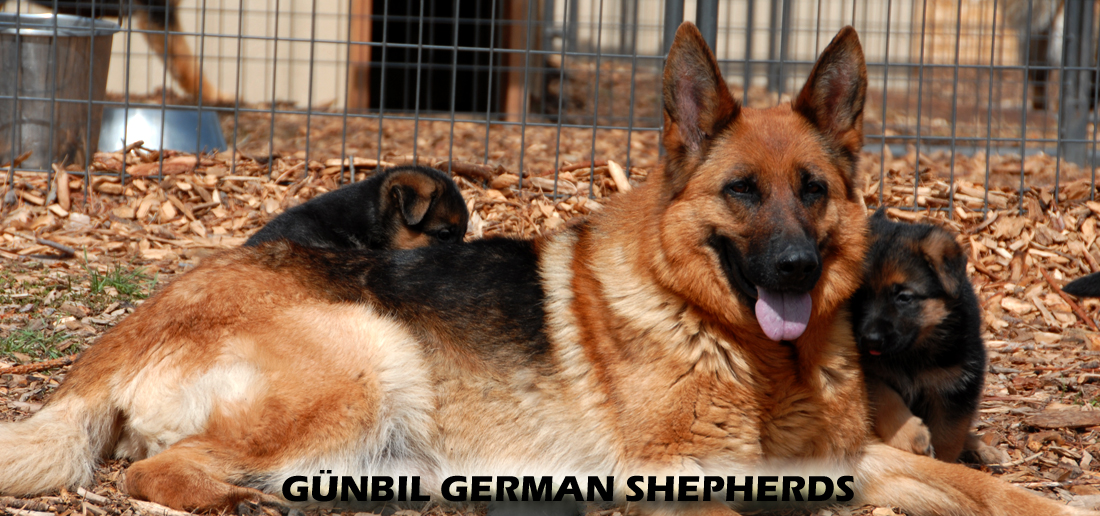 Best German shepherd puppies in the world, guaraanteed - World champion Parents!!!

Every year we breed few private litters for our future breeding program and to show our offspring's at the Bundessieger Zuchtscha (German shepherd specialty show) show in Germany and around the world. These world champion German shepherd puppies are bred with this goal in mind and are the most PROMISING of our BREEDING PROGRAM for this purpose. If you're interested in BREEDING AND/OR SHOWING YOUR PUPPY/DOG FOR THE SHOW RING, the liters below offer the best selection and option for this objective, the German Shepherd "Show Puppy". The "working, show" line puppies below meet all the requirements for your puppies success in the show ring in any arena, WORLDWIDE! The litters below are the "ABSOLUTE" best German shepherd puppies you can get in the world, for any ocaasion, including for your famliy!

All of our world champion German shepherds are titled in schutzhund and rated excellent in show, with breed survey (Koerklasse I) "recommended for breeding". The breed evaluation is highly detailed analysis of the dog's structure, temperament, pedigree and both hip and elbow certification rated good and adequate performance on an endurance test (AD). Our dogs are recommended and evaluated prior to breeding by a certified trained and recognized "expert German shepherd judge" as to the worthiness of the dog for breeding. We only breed highly trained Schutzhund dogs, this allows us to exceed the excellence of the breed at a superior level.

Our select, world champion German shepherd puppies are guaranteed to have sound temperament with safe nature and stable nerves, highly intelligent, extreme endurance ability, powerful, strong and confident characters, sound and "healthy" pedigrees -

We back it up with a service that supports our character and our integrity, a

"WORRY FREE" 5 (FIVE) YEAR,

Genetic health

and temperament "guarantee". In the event that the guarantee is honored, Gunbil German Shepherds will provide another dog of the same quality, age, gender (of choice) and value for FREE.

We do not ask that you return the original dog to us

.

Our

five year guarantee

is for your peace of mind, our commitment to you and your new puppy/dog. For more info, please click here.



At Günbil German Shepherds, "we believe in our World Class German Shepherd Puppies", you should too!
We have over

470,000

(

470K

)

likes

&

followers

on facebook!



With an

"
A+
"

rating BBB,

over

"

800

reviews & Recomendations"

on Facebook with

4.6

score

!



FOR OUR FACEBOOK REVIEWS, PLEASE CLICK HERE

World champion import puppies

-

Excellent show, protection & family!

July 30

,

2019

4,444.00
Asap

-

SG1/V1 Twice world champion - 2017 & 2018

Val

-

SG2/2nd RANKED IN CLASS

(germany, Lg02/2019)

registration

Germany

- Deutsche Schäferhunde (SV) e.V.
titles
SCHH2/SchHII/IPO2/IPOII/KKL1/A2/A1/sg1/sg1
hips
(a2) Fast normal - Good
elbows
(a1 Normal - Excellent
breed value

(ZW info)

81

- Excellent Breed Value

(zw-Zuchtwert)

show ranking
Twice world champion 2017/2018 (SG/V)
database pedigree
German Import Puppies - SV/Pink Papers

German shepherd breeding pair

Asap,

is "

Twice

World Champion"

Best in the world!

In 2016 he is the Young Class (SG Class)

world champion

, and in 2017, he is the

world champion

in the Excellent Class (V Class)! He is working on his IPO3 title (Schutzhund 3) in Germany (IPOIII/SchH3) and has completed his Breed Survey, recommended to breed (Kkl1). Big, strong, masculine, very expressive, strong and powerful,

Super head

,

Super mask

! Excellent type,

SUPER COLOR

, very healthy pedigree.

Asap

is the son of

13 ranked in the world

V13

Fight vom Holtkamper Hof. The grandson of

twice world champion

VA1/Remo vom Fichtenschlag! Clear in the head, safe nature and stable nerves!



Valentina

, is the daughter of

TWICE

WORLD CHAMPION

SG1/V1 Cronos del Seprio.

Her grand-father is

TWICE

WORLD CHAMPION

VA1 Remo vom Fichtenschlag.

JValentina, is titled in schutzhund SchH1/IPO1/Kkl1, with good breed value, and excellent elbows. Anatomically very correct, excellent pedigree from both parents. She is absolutely clear in the head with ready to play, ready to please attitude, with an excellent natural protection ability if needed. We are very excited with this world chamnpion puppies.



Puppy Breed Value

:

87

(Very Good Breed Value---!!)
Note: ZW Breed Value less than 100 are the most desirable. More Info Here.

registration

Germany

- Deutsche Schäferhunde (SV) e.V.
titles
SchH2/SchHII/Ipo2/IpoII/Kkl1/A1/A1/sg1/V1
hips
(a2) Fast normal - Good
elbows
(a1) normal - excellent
breed value

(ZW info)

94

- Good Breed value

(zw-Zuchtwert)

status
2ND ranked in GErmany (GHKH/LG02/19)
database pedigree
German Import Puppies - SV/Pink Papers

German shepherd puppies

| | |
| --- | --- |
| country of birth | Germany - günbil Imports |
| litter status | show - breeding - protection - naturally family |
| database pedigree | pink papers from Germany & AKC (SV/AKC/DBP) |
| date bred | March 16, 2019 |
| date will born | May 14, 2019 |
| litter size | N/a |
| available puppies | will post when born |

German shepherd puppies for sale

Delivery Date
July 30, 2019
have questions

Please call us at

720.733.0222

reserve puppy
Purchase Puppy - Click here
pictures

will send picture

@ 10 weeks old

World champion import puppies

-

Excellent show, protection & family!

February 22

,

2019

4,444.00
Ian

-

SG2/VA3 world champion German Shepherds

Melc

-

Best in the world!

World champion 2016

(germany)

registration

Germany

- Deutsche Schäferhunde (SV) e.V.
titles
SchH3/ScHhIII/IpoIII/Ipo3/Kkl1/A2/A1/sg1/V1
hips
(a2) Fast normal - Good
elbows
(a1 Normal - Excellent
breed value

(?)

75

- super Breed Value

(zw-Zuchtwert)

show ranking
2nd ranked in world 2017 (sg2/VA3)
database pedigree
German Import Puppies - SV/Pink Papers

German shepherd breeding pair

Ian,

is the 2ND ranked in the world in 2017

. He is fully titled in Schutzhund SchH3, recommended to breed (Kkl1). Big, strong, typeful and expression is very good, strong masculine head, pronounced mask with dark eyes.

Ian

is the g-son of

SG/VA1 Zamp vom Thermodos -

Twice world champion

!

On his mother side, once again, his grandfather is

VA1 Remo vom Fichtenschlag -

Twice world champion

!

Excellent Select Class!



Melc

,

is the World Champion in 2016

.

The daughter of

TWICE world champion

VA1 Ballack von der Brucknerallee!

Melc

, is titled in schutzhund SchH1/Kkl1, Good hips and excellent elbows. Anatomically very correct, excellent pedigree from both parents. She is absolutely clear in the head with ready to play, ready to please attitude, with an excellent natural protection ability if needed.



Puppy Breed Value

:

82 (Excellent Breed Value)



Note: Puppy Breed Value less than 100 are most desirable. More Info Here.


registration

Germany

- Deutsche Schäferhunde (SV) e.V.
titles
SchH2/SchHII/Ipo2/IpoII/Kkl1/A2/A1/sg1/V1
hips
(a2) normal - excellent
elbows
(a1) normal - excellent
breed value

(?)

89

- Very Good Breed value

(zw-Zuchtwert)

status
world champion 2016 (SG1)
database pedigree
German Import Puppies - SV/Pink Papers

German shepherd puppies

| | |
| --- | --- |
| country of birth | Germany - günbil Imports |
| litter status | show - breeding - protection - naturally family |
| database pedigree | pink papers from Germany & AKC (SV/AKC/DBP) |
| date bred | September 25, 2018 |
| date will born | December 02, 2018 |
| litter size | 3 Males & 5 FEmales |
| available puppies | Sorry, litter is sold |

German shepherd puppies for sale

Delivery Date
February 22, 2019
have questions

Please call us at

720.733.0222

reserve puppy
pictures

will send picture

@ 10 weeks old

World champion import puppies

-

Excellent show, protection & family!

February 20

,

2019

4,444.00
Gary

-

VA1 world champion 2017

Lee

-

31st ranked in the world

(germany, JKH/2015)

registration

Germany

- Deutsche Schäferhunde (SV) e.V.
titles
SchH3/ScHhIII/IpoIII/Ipo3/Kkl1/A2/A1/sg1/V1
hips
(a2) Fast normal - Good
elbows
(a1 Normal - Excellent
breed value

(?)

75

- super Breed Value

(zw-Zuchtwert)

show ranking
VA1 World champion 2017 (BSZS)
database pedigree
German Import Puppies - SV/Pink Papers

German shepherd breeding pair

Gary,

is

"World Champion",

Best in the world

in

Excellent Select Class, 2017.

WOW!!!

Fully titled in IPO3/SchH3 and is recommended to breed (Kkl1). Massive, masculine, strong, very expressive, strong and powerful "stud male",

strong macho head, Dark mask

! Excellent overall type,

SUPERior COLOR

, very healthy pedigree from both parents.

Gary

is the son of

three times world champion

SG1/V1/VA1 Omen v. Radhaus

. Stable nerves, safe nature and clear in the head".



Lee

, is ranked 31th in the world (JKLH/2015), the daughter of

twice

world champion

VA1/SG1 Leo von der Zenteiche.

Her grandfather is

Three

times

world champion

SG1/VA1/VA1Vegas du Haut Mansard, also, the granddaughter of

twice

world champion

SG1/VA/ Zamp vom Thermodos.

Lee

is titled in schutzhund SchH1/IPO1/Kkl1, fair hips, excellent elbows. Anatomically correct, very healthy pedigree,. She's absolutely clear in the head, ready to play and please attitude, excellent natural protection ability.



Puppy Breed Value

:

92

(Very Good Breed Value---!!)
Note: ZW Breed Value less than 100 are the most desirable. More Info Here.


registration

Germany

- Deutsche Schäferhunde (SV) e.V.
titles
SchH1/SchHI/Ipo1/IpoI/Kkl1/A3/A1/SG31/V102
hips
(a3) a-noch zugelassen - Fair
elbows
(a1) normal - excellent
breed value

(?)

96

- Very Good Breed value

(zw-Zuchtwert)

status
31st ranked in the world 2015!
database pedigree
German Import Puppies - SV/Pink Papers

German shepherd puppies

| | |
| --- | --- |
| country of birth | Germany - günbil Imports |
| litter status | show - breeding - protection - naturally family |
| database pedigree | pink papers from Germany & AKC (SV/AKC/DBP) |
| date bred | September 25, 2018 |
| date will born | November 29, 2018 |
| litter size | 4 Males & 3 FEmales |
| available puppies | Sorry, litter is sold |

German shepherd puppies for sale

Delivery Date
February 20 2019
have questions

Please call us at

720.733.0222

reserve puppy
pictures

will send picture

@ 10 weeks old

World champion import puppies

-

Excellent show, protection & family!

December 1

,

2018

4,888.00
Asap

-

SG1/V1 Twice world champion - 2017 & 2018

Jojo

-

SG1 Champion in in class

(germany, Lg05/2015)

registration

Germany

- Deutsche Schäferhunde (SV) e.V.
titles
SCHH2/SchHII/IPO2/IPOII/KKL1/A2/A1/sg1/sg1
hips
(a2) Fast normal - Good
elbows
(a1 Normal - Excellent
breed value

(ZW info)

81

- Excellent Breed Value

(zw-Zuchtwert)

show ranking
Twice world champion 2017/2018 (SG/V)
database pedigree
German Import Puppies - SV/Pink Papers

German shepherd breeding pair

Asap,

is "

Twice

World Champion"

Best in the world!

In 2016 he is the Young Class (SG Class)

world champion

, and in 2017, he is the

world champion

in the Excellent Class (V Class)! He is working on his IPO3 title (Schutzhund 3) in Germany (IPOIII/SchH3) and has completed his Breed Survey, recommended to breed (Kkl1). Big, strong, masculine, very expressive, strong and powerful,

Super head

,

Super mask

! Excellent type,

SUPER COLOR

, very healthy pedigree.

Asap

is the son of

13 ranked in the world

V13

Fight vom Holtkamper Hof. The grandson of

twice world champion

VA1/Remo vom Fichtenschlag! Clear in the head, safe nature and stable nerves!



Jojo

, is ranked 40th in the world (JKLH/2015), the daughter of

TWICE

WORLD CHAMPION

VA1/SG1 Leo von der Zenteiche.

Her grand-father is

TWICE

WORLD CHAMPION

VA1 Remo vom Fichtenschlag.

Jojo is titled in schutzhund SchH1/IPO1/Kkl1, excellent hips and elbows. Anatomically very correct, excellent pedigree from both parents. She is absolutely clear in the head with ready to play, ready to please attitude, with an excellent natural protection ability if needed.



Puppy Breed Value

:

80

(Very Good Breed Value---!!)
Note: ZW Breed Value less than 100 are the most desirable. More Info Here.

registration

Germany

- Deutsche Schäferhunde (SV) e.V.
titles
SchH2/SchHII/Ipo2/IpoII/Kkl1/A1/A1/sg1/V1
hips
(a1) normal - excellent
elbows
(a1) normal - excellent
breed value

(ZW info)

73

- Very Good Breed value

(zw-Zuchtwert)

status
Champion in class - GErmany 2015!
database pedigree
German Import Puppies - SV/Pink Papers

German shepherd puppies

| | |
| --- | --- |
| country of birth | Germany - günbil Imports |
| litter status | show - breeding - protection - naturally family |
| database pedigree | pink papers from Germany & AKC (SV/AKC/DBP) |
| date bred | July 9, 2018 |
| date will born | September 14, 2018 |
| litter size | 6 Males |
| available puppies | Sorry, litter is sold |

German shepherd puppies for sale

Delivery Date
December 1, 2018
have questions

Please call us at

720.733.0222

reserve puppy
pictures

will send picture

@ 10 weeks old

---
| | | | | | | |
| --- | --- | --- | --- | --- | --- | --- |
| World Class German Shepherd Dogs | | 720.733.0222 | | | | |