Understanding hip, elbow rating from the SV, FCI and OFA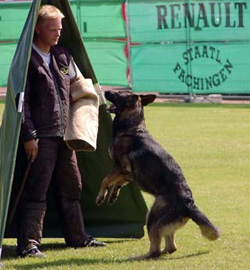 Schutzhund was originally started with the German Shepherd dog in Germany. The object was to assess the working ability of the German shepherd, the herding dog. Sheep herding was declining so von Stephanitz, whom is the master of the driving force behind the German Shepherd. He originated schutzhund as a sport and to evaluate the working ability of the dog.
Schutzhund is the representation of the character and quality of a dog as a superior breeding stock. The complicatedness of the schutzhund trial and adversity of the sport would surely determine the much superior dog whom is physically or temperamentally suited to complete the title of Schutzhund. The working dog.
The first Schutzhund trial was held in Germany in 1901. These steps were taken to point out the correct working temperament and ability in the German Shepherd breed. SV (Germany), the parent club of the breed, developed the Schutzhund trial as a way of improving and maintaining a reliable dog with the intention that would be suitable for breeding.

What is Schutzhund (Protection dog)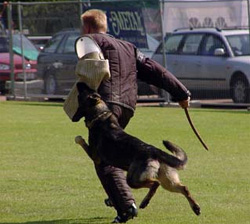 chutzhund is a German word translates as "protection dog". It is a sport that mainly focuses on developing and evaluating those unique traits in dogs that make them more functional and happier companions to their owners. It also builds a positive character and confident in the dog.
Schutzhund is a dog training and breeding sport developed originally in the 1920's by the Deutsches Shaeferhund Verein (German Shepherd Dog Club), or SV, in order to maintain the working ability and the quality of the breed. Schutzhund means literally "protection dog", the training involves work equally in tracking, obedience and protection. In order to get a Schutzhund degree a dog must pass all three phases of the work. Also, a working title (at least a SchH I) is required for breed survey purposes (by a breed warden) in order to register an approved "correctly bred" litter.
There are three major degrees awarded - SchH I, SchH II, and SchH III. Each level being more difficult to achieve. SchH I (IPO I) is the apprentice test. A SchH III dog must validate a superior level of performance, ability and courage.

If you have questions or comments that you would like to share, please
Email us
Please do not use our website to attempt to diagnose or treat your pet. The consultation with your veterinarian is the best source of health advice for your individual pet. You should not rely, on the veterinary advice or any other information provided on this site for the diagnosis or treatment of any specific condition. You should always consult your own veterinarian for specific advice concerning the medical condition or general treatment of your pet. Günbil German shepherd dogs, worldclassgsd.com and or Günbil German shepherds, accepts no liability related to the veterinary advice and information provided on this site regarding health matters.