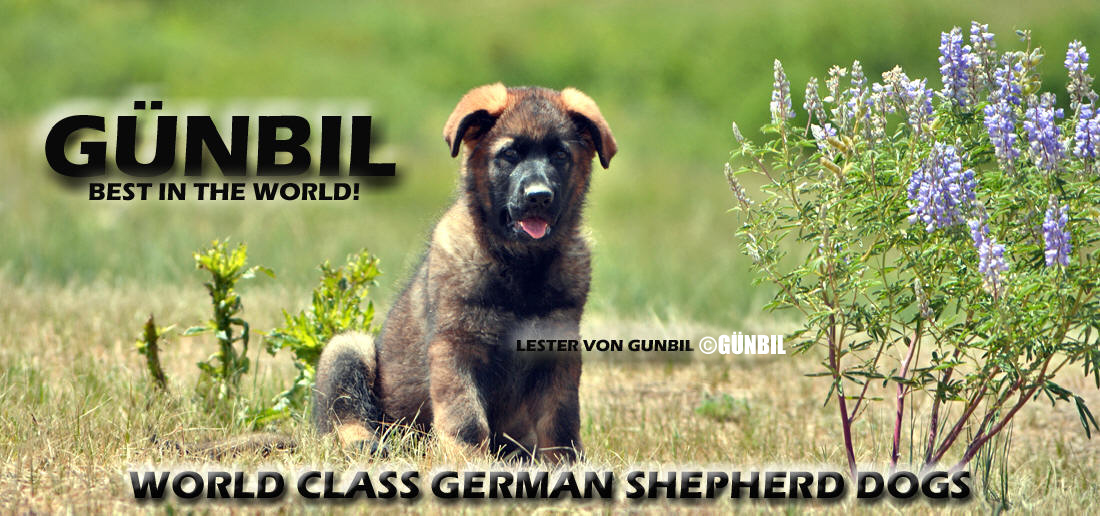 World Class Gunbil German shepherds future breeding program

We are

"von Günbil"

- "Team Günbil", "Günbil Rochele" and "Günbil Ranch", an SV/AKC Registered PUREBRED working/showline German shepherd breeder in Germany and in USA offering truly the BEST working line German shepherds in the world! We offer you our world-class expertise, superior knowledge, TOP working class dogs in the world with absolutely Clear-In-The-Head character, stable nerves and safe nature dogs! With our German Partners (in Germany) we have over

48 years experience

in

Competing

,

breeding, improving with perfection

the "working" and "working showline" German shepherd dogs!

We breed with the highest standard, top level breeding with Top-world-champion working line German shepherd dogs offered only in Germany. Our working German Shepherd puppies are recommended for all aspects of Police work, Narcotics Detection, Explosives Detection, Officer Protection, Military, Tracking, Cadaver Detection, Working Dog, Sport Dog, Guard Dog and naturally Family Protection Dogs! These dogs were bred for this purpose, absolutely clear in the head, have the natural desire to work a little harder than our show line dogs.


We're so confident and assured in our World Class "Purebred Working Line German Shepherd" breeding program that we offer a

FIVE

(5)

Year

Genetic health

and

Temperament guarantee

!

We back it up with a service that supports our character and our integrity

. Our five year guarantee is for your peace of mind, our commitment to you and your new puppy/dog.
Our Purebred working line puppies come with great dispositions, social behaviors, and have natural protection drives to compete in any arena world wide, Guaranteed! - You can be sure that Gunbil puppies are reliable in temperament, highly intelligent, extreme endurance ability, powerful, strong, sound structure, with steady nerves and safe in nature.

We believe in our "Gunbil German Shepherds" breeding program, you should too!
We have over

470,000

(

470K

)

likes

&

followers

on facebook!



With an

"
A+
"

rating BBB,

over

"

800

reviews & Recomendations"

on Facebook with

4.6

score

!



FOR OUR FACEBOOK REVIEWS, PLEASE CLICK HERE

German Shepherd Working Line Puppies,

GÜnbil imports!

May 24, 2019

4,444.00
Titus

-

V5 5th ranked in class LG05

(Germany 2017)

Freida

-

6th ranked in class LG14

(Germany 2017)

registration

Germany

titles
SCHH3/IPO3/KKL1/A1/SG1/V1/bh/ad
hips
(a1) Normal - Excellent
elbows
(a1) Normal - Excellent
breed value

(ZW info)

79

- Super Breed Value

(zw-Zuchtwert)

Titles - ranking
SchH3, IPO3, FH1, FH2, bh, ad
database pedigree
German Import Puppies - SV/Pink Papers

German shepherd breeding pair

ITitus

: (STUD - Father), BIG in size "TOP WORKING LINE WORLD-CLASS STUD" fully titled SchH3/IPO3/Kkl1/A1/A1. Energetic, spirited male, strong and powerful, LARGE in size ready with excellent IPO3 Schutzhund score 95/97/100 LG5/2016. Masculine structure, normal withers, straight back, croup is in a good position, good front and very good Rear angulation. Temperament is clear, stable nerves, gun sureness, drives, self-confidence. Confident, self-assured dog, "Clear in the head" with stable nerves and safe nature stud! Excellent search services, very high drive-temperamental, very energetic.

SAFE IN NATURE

!



EFrieda

: (DAM - Mother), fully titled SchH3/IPO3/Kkl1/A1/A1. Very confident female, Medium-sized, strong, powerful, stretched, correct angulation, far-reaching gait, strong locomotive movement, with world class working pedigree.Excellent character, friendly in nature, Sound in temperament, clear in the head character, world class pedigree coming from both parents. Balanced in nature with excellent genetic-health. She loves to play and she adores her family, excellent natural protection to protect her family from unsafe situations.

SAFE IN NATURE

!



Puppy Breed Value

:

82

(Excellent breed value)

registration

Germany

titles
SchH3/Ipo3/Kkl1/A1/A1/SG11/bh/Ad
hips
(a1) normal - excellent
elbows
(a1) normal - excellent
breed value

(ZW info)

86

- Super Breed value

(zw-Zuchtwert)

Titles - ranking
SchH3, IPO3, bh, ad
database pedigree
German Import Puppies - SV/Pink Papers

German shepherd puppies

| | |
| --- | --- |
| country of birth | Germany - von günbil Kennels |
| litter status | Working, protection, Breeding, naturally family |
| database pedigree | pink papers from Germany & AKC (SV/AKC/DBP) |
| date bred | Decemebr 21, 2018 |
| date will born | March 4, 2019 |
| litter size | 1 Males 4 females |
| available puppies | Sorry, litter is sold |

German shepherd puppies for sale

Delivery Date
May 24, 2019
have questions

PLEASE CALL US AT

720.733.0222
reserve puppy
pictures

will send picture

@ 10 weeks old

Best working line puppies in th world,

Guaranteed!

GÜnbil imports!

September 27,

2018

4,888.00
Ixtrem

-

2nd ranked in class LG11

(Germany 2017)

Ellice

-

6th ranked in class LG14

(Germany 2017)

registration

Germany

titles
SCHH3/IPO3/KKL1/A1/SG1/V1/bh/ad
hips
(a1) Normal - Excellent
elbows
(a1) Normal - Excellent
breed value

(ZW info)

76

- Super Breed Value

(zw-Zuchtwert)

Titles - ranking
SchH3, IPO3, FH1, FH2, bh, ad
database pedigree
German Import Puppies - SV/Pink Papers

German shepherd breeding pair

Ixterm

: Over the medium size, strong, full of substance, expressive with good topline, very good rear angulation, chest conditions are balanced, straight movement, he displays powerful, spacious gate. TSB pronounced. Benefits: dominant, masculine appearance. Advice for breeding: To improve strength and content. Tremendous ground speed, very tough leader, confident and strong essence. Excellent search services, very high drive-temperamental, very energetic,

hard and uncompromising protection service

, with pronounced strength and self-assurance. Outstanding offspring with great nothingness, high drive and enormous self-confidence.

SAFE IN NATURE

!



Ellice

: Medium size, medium strong, good topline, croup should be slightly longer, good angulations and chest proportions, straight step sequence, elbows should be closed, effective replenishment, good reach. Safe nature, UCB pronouncedly. Excellent working line litter, with power. The litter has 3 males and 3 females. 1 gray male and a gray female and the other puppies are black with some markings on the paws.



Puppy Breed Value

:

75

(Super breed value)

registration

Germany

-

------ SORRY SOLD -----

-

titles
SchH3/Ipo3/Kkl1/A1/A1/SG11/bh/Ad
hips
(a1) normal - excellent
elbows
(a1) normal - excellent
breed value

(ZW info)

75

- Super Breed value

(zw-Zuchtwert)

Titles - ranking
SchH3, IPO3, bh, ad
database pedigree
German Import Puppies - SV/Pink Papers

German shepherd puppies

| | |
| --- | --- |
| country of birth | Germany - von günbil Kennels |
| litter status | Working, protection, Breeding, naturally family |
| database pedigree | pink papers from Germany & AKC (SV/AKC/DBP) |
| date bred | May 10, 2018 |
| date born | July 12, 2018 |
| litter size | 4 Males 1 FEmale |
| available puppies | SORRY SOLD |

German shepherd puppies for sale

Delivery Date
September 27, 2018
have questions

PLEASE CALL US AT

720.733.0222
reserve puppy
pictures

will send picture

@ 10 weeks old

---
| | | | | | | |
| --- | --- | --- | --- | --- | --- | --- |
| World Class German Shepherd Dogs | | 720.733.0222 | | | | |