Dog Food
FROMM - PUPPY GOLD
PLEASE ONLY FEED OUR PUPPIES FROMM, PUPPY GOLD - DO NOT FEED ANY OTHER BRAND WHEN YOU RECEIVE OUR PUPPY, FOR ABOUT 4 WEEKS. AFTER THIS PERIOD YOU CAN CHOOSE TO ALTER HIS FOOD TO ANY OTHER BRAND YOU WISH.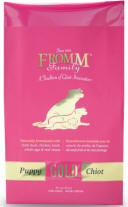 YOU'VE TRUSTED US IN GETTING YOUR NEW GERMAN SHEPHERD PUPPY. TRUST US AGAIN, FEED ONLY FROMM PUPPY/DOG FOOD.
OUR DOGS LOVE THE TASTE, THEY ARE EXTREMELY HEALTHY , VERY STRONG AND POWERFUL BONE MASS, GREAT ENERGY LEVEL WITH SUPERB SKIN AND COAT CONDITIONING.
WE FEED ONLY FROOM DOG FOOD, IT'S SIMPLY THE BEST DOG FOOD YOU CAN PROVIDE YOUR DOG!
NUTRIENT
Crude Protein 27% Min
Crude Fat 18% Min
Crude Fiber 3.5% Max
Omega 3 Fatty Acids 0.6% Min
Omega 6 Fatty Acids 2.6% Min
Total Microorganisms 220,264 CFU/g Min
FEEDING GUIDELINES (1 CUP EQUALS 8 OUNCES)
Daily Feeding Recommendations
6 - 11 weeks
3 - 4 months
5 - 7 months
8 - 12 months
Weight of Puppy
Cups per day*
Cups per day*
Cups per day*
Cups per day*
5 - 10 lbs
1 1/4 - 2
1 - 1 1/2
3/4 - 1 1/4
1/2 - 1
10 - 20 lbs
2 - 3
1 1/2 - 2 1/2
1 1/4 - 2
1 - 1 1/2
20 - 30 lbs
3 - 4
2 1/2 - 3 1/4
2 - 2 1/2
1 1/2 - 2
30 - 40 lbs
4 - 4 3/4
3 1/4 - 4
2 1/2 - 3
2 - 2 1/2
40 - 50 lbs
4 3/4 - 5 2/3
4 - 4 1/2
3 - 3 1/2
2 1/2 - 2 3/4
51 lbs +
For large breed puppies we recommend feeding Fromm Large Breed Puppy Gold
*

Standard 8 FL.-oz. measuring cup

- Age, breed, weight, activity level, and other factors have an effect on the amount of food required. Two to four times more food may be required for puppies, gestating, or nursing dogs. Spayed or neutered dogs may require up to 25% less food. Visit frommfamily.com/feeding for additional feeding recommendations.

| | |
| --- | --- |
| Bag Size | Cups per Bag |
| 4 (LB) | 13 cups |
| 8 (LB) | 26 cups |
| 20 (LB) | 65 cups |
| 40 (LB bag) | 130 cups (5 cups daily = 26 days of food |
| 55 (LB) | 180 cups |
| 100 (LB) | 360 cups |
These guideline amounts are a starting point and your puppy may need more food depending upon age, activity and temperament. In order to reach optimal body condition, you may need to adjust food intake. This represents the total recommended volume of food per day. You should divide the total recommended feeding amount by the number of times you feed your puppy per day to get the actual portion size per feeding.
LEASE REMEMBER - To have clean, fresh water available for your puppy at all times.
THIS DOG FOOD FORMULA IS ALSO RECOMMENDED FOR PREGNANT OR NURSING DOGS
During the last three weeks of gestation, increase feeding amounts by 25% to 50%. During lactation, feed as much as she wants (usually two to five times the guideline amount, depending on litter size).For puppies and pregnant or nursing mothers. Naturally formulated with duck, chicken, lamb, whole eggs & real Wisconsin cheese. In addition, we enhance our Gold recipes with probiotics to aid digestion and salmon oil for a healthy coat.
THIS DOG FOOD FORMULA IS ALSO RECOMMENDED FOR PREGNANT OR NURSING DOGS
If your dog is not currently eating a food FROMM brand dog food - and you'd like to make the switch, there should be a transition period of mixing the new food with your dog's current diet. Here's a sample feeding schedule over a week's time:
Day 1 and 2: Feed approximately one-fourth of new food mixed with three-fourths of current food.
Days 2 and 3: Mix half of old food with half of new food.
Days 4 to 6: Give your dog three-fourths of the new prebiotics-containing food and one-fourth of its former chow.
Day 7: Begin feeding your dog 100 percent of the new product.
DOGGIE TREATS (Please do not give any treats until your puppy is acclimated into his/her new environmentemt (14 days after arrival)
Raw "natural fed beef" rib bone, (just the bone without the meat). Twice a week, 2 pieces (four or six inch in length). The rib beef bone is soft which can easily be digested and will whiten teeth naturally.
For training purposes please use small pieces of "beef" hot dogs ONLY!
THE MISSING LINK "PLUS" WITH GLUCOSAMINE (your puppy must be 6 month and older for this formula)
All natural whole food, with Essential Fatty acids, dietary fiber and phytonutrients. Your dog needs more than just a commercial diet and an added joint support supplement, that's why there's Missing Link® Plus. Carefully formulated with all-natural, human-grade whole foods, beneficial nutrients and glucosamine to enhance your dog's overall health, agility and mobility.
OLEWO, DEHYDRATED CARROTS (your puppy must be 6 month and older for this formula)
Olewo Carrots help improve your dogs health by providing valuable vitamins, minerals and trace elements which contribute to a well balanced diet. Along with its high carotene content (an important pre-cursor to vitamin A), Olewo carrots also contain significant B-group vitamins.
the importance of protein - Dogs need protein
The Importance of Protein: Dogs need protein. That's because this component of many foods has numerous functions in your dog's -- and your -- body. It is best known for supplying amino acids that build hair, skin, nails, muscles, tendons, ligaments, and cartilage. Protein also plays a key role in producing hormones and enzymes that help to regulate daily, basic functions. The protein in dog foods can be supplied by animal sources, plant sources, or a combination of the two. Common animal-based protein sources used in pet food include chicken, lamb, fish meal, and beef. Common plant-based protein sources used in your pet's food include corn-gluten meal and soybean meal.
Your pet's gastrointestinal tract is simple and does not have the capacity to digest large amounts of plant products. In addition, high quality animal-source proteins contain all the essential amino acids your dog needs, whereas some plant-based proteins may be deficient in certain essential amino acids. So although your dog is classified as an omnivore, it is best fed as a carnivore.
Protein and Your Dog Feeding your dog a diet with primarily animal-based protein sources helps to do the following: Maintain your dog's muscle mass Reverse some age-related changes in skeletal muscles in senior dogs Enhance the long-term health and well-being of adult and senior dogs The bottom line is good-quality, meaty dog foods that will have your dog licking its chops and wagging its tail. At the same time, you can smile with confidence, knowing that you've fed your loyal friend what it craves and what its body needs.