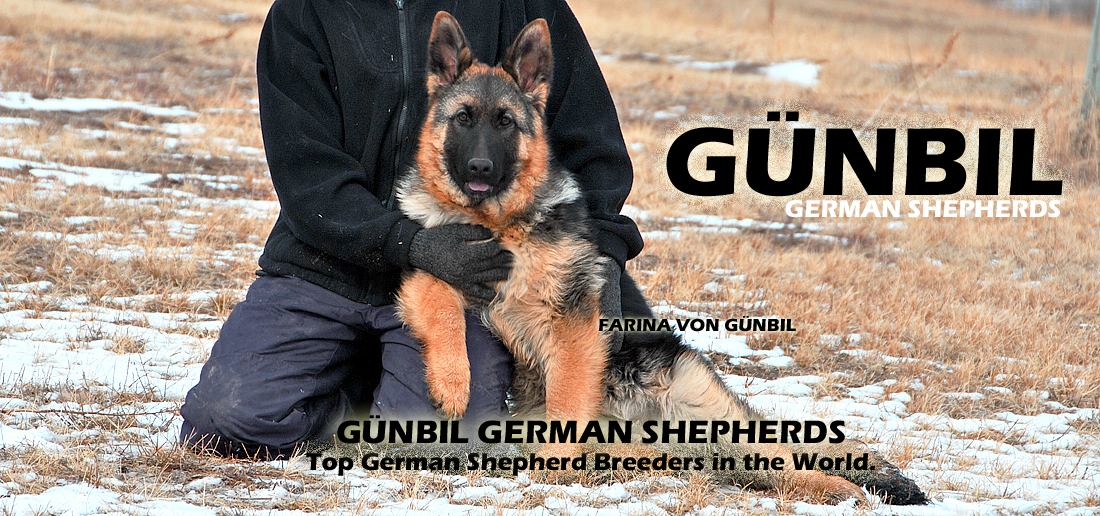 World champion German shepherd puppies for sale

We operate in Two Continents, North America and Europe (Germany) in bringing you the absolute "

best

" German shepherd puppies in the world! "World champion German shepherd puppies" and "world champion German shepherd dogs". "World champion German shepherd puppies for sale. Our champion German shepherd import division from Germany. Our world champion and world class import puppies come from parents that are "world Champions", and/or TOP VA's (Excellent Select) GDS's from Germany - The best possible German shepherds in the world!. The "excellent select" (VA) German shepherd dogs we offer and/or breed with are the "real VA (world champion), excellent select German shepherd dogs, ranked in Germany, not in US or Canada!

Our kennels in Germany are vom Haus Gunbil Rochele German shepherd kennels in Lechbruck, Bayer, Germany, licensed and registered with the Verein für Deutsche Schäferhunde and Team Günbil German Shepherd Dogs in Den Weinbergen 5 99518 Niedertrebra, Deutchland (Germany). We offer litters from world champion dogs, excellent select SIRES (VA)", but we equally offer "Excellent Select DAMS (VA)", in our breeding program in GErmany. Puppies from the best show/breeding possibilities in the world!

We back it up with a service that supports our character and our integrity. We offer a FIVE (5) YearGenetic health and Temperament guarantee! Our five year guarantee is for your peace of mind, our commitment to you and your new puppy/dog.

"We believe in our German Shepherd Puppy breeding program, you should too"!
We have over

470,000

(

470K

)

likes

&

followers

on facebook!



With an

"
A+
"

rating BBB,

over

"

800

reviews & Recomendations"

on Facebook with

4.6

score

!



FOR OUR FACEBOOK REVIEWS, PLEASE CLICK HERE

World champion import puppies

-

Excellent show, protection & family!

jULY 26,

2019

4,444.00
VA1 Willy

-

world champion German Shepherd

sg2 Bonny

-

SG2 2nd IN cLASS

(germany, Lg14/2017)

registration

Germany

titles
SCHH1/IPO1//KKL1/A2/A1/sg1/V1
hips
(a1 Normal - Excellent
elbows
(a1 Normal - Excellent
breed value

(ZW info)

78

- Excellent Breed Value

(zw-Zuchtwert)

show ranking
world champion 2018 (BSZS - Germany)
database pedigree
German Import Puppies - SV/Pink Papers

German shepherd breeding pair

Willy

, is the current "

TWICE WORLD CHAMPION

,

Best in the world

in 2018! Fully titled SchH3/IPO3/Kkl1/A1/A1, Correct size, full-bodied, powerful, strong- stud type head, strong body, masculine structure, excellent type and expression, harmonious, dry and firm, correct front over-all, top world class stud! With pronounced withers, straight back, correct positioned croup, correct angulation, well balanced, very well and correctly angulated in the hindquarters, straight powerful free movement. Excellent stud-like head, the mask is pronounced with superior and desired "black and red" pigment! Temperament, nerves, gun sureness, drives, self-confidence. Confident, self-assured dog, "Clear in the head" with stable nerves and safe nature stud! The g-son of

Twice World Champion"

VA1 Remo Fichtenschlag.





Bonny

, 2ND ranked in Class (LG14/2017) in Germany, with an excellent pedigree, Excellent Health Hip Value!. Correct size, titled in schutzhund (SchH1/IPO1/Kkl1), recommended to breed, excellent hips and excellent elbows, very healthy pedigree from both parents. The great granddaughter of

WORLD CHAMPION

VA1 Remo vom Fichtenschlag

, the granddaughter of (mother side)

TWICE WORLD CHAMPION

,

VA1 Zamp vom thermodos

. A happy dog, fun, confident, self assured dog. Ready to please and ready to play attitude. Excellent with family and children. She is absolutely clear in the head, safe nature with stable nerves.



Puppy Breed Value

:

79

(Super Breed Value---!!)
Note: ZW Breed Value less than 100 are the most desirable. More Info Here.

registration

Germany

titles
SchH1/SchHI/Ipo1/IpoI/Kkl1/A1/A1/SG2
hips
(a1) normal - excellent
elbows
(a1) Fast normal - Good
breed value

(ZW info)

81

- Excellent Breed value

(zw-Zuchtwert)

status
2ND in Class, GErmany 2017!
database pedigree
German Import Puppies - SV/Pink Papers

German shepherd puppies

| | |
| --- | --- |
| country of birth | Germany - günbil Imports |
| litter status | show - breeding - protection - naturally family |
| database pedigree | pink papers from Germany & AKC (SV/AKC/DBP) |
| date bred | March 15, 2019 |
| date will born | May 17, 2019 |
| litter size | N/A |
| available puppies | Will Post When Born |

German shepherd puppies for sale

Delivery Date
July 26, 2019
have questions

Please call us at

720.733.0222

reserve puppy
pURCHASE pUPPY - cLICK hERE
pictures

will send picture

@ 10 weeks old

World champion import puppies

-

Excellent show, protection & family!

October 11,

2019

4,444.00
VA1 Willy

-

world champion German Shepherd

Xanga

-

SG2 2nd IN cLASS

(germany, Lg14/2017)

registration

Germany

titles
SCHH1/IPO1//KKL1/A2/A1/sg1/V1
hips
(a1 Normal - Excellent
elbows
(a1 Normal - Excellent
breed value

(ZW info)

78

- Excellent Breed Value

(zw-Zuchtwert)

show ranking
world champion 2018 (BSZS - Germany)
database pedigree
German Import Puppies - SV/Pink Papers

German shepherd breeding pair

Willy

, is the current "

TWICE WORLD CHAMPION

,

Best in the world

in 2018! Fully titled SchH3/IPO3/Kkl1/A1/A1, Correct size, full-bodied, powerful, strong- stud type head, strong body, masculine structure, excellent type and expression, harmonious, dry and firm, correct front over-all, top world class stud! With pronounced withers, straight back, correct positioned croup, correct angulation, well balanced, very well and correctly angulated in the hindquarters, straight powerful free movement. Excellent stud-like head, the mask is pronounced with superior and desired "black and red" pigment! Temperament, nerves, gun sureness, drives, self-confidence. Confident, self-assured dog, "Clear in the head" with stable nerves and safe nature stud! The g-son of

Twice World Champion"

VA1 Remo Fichtenschlag.





xANGA

, 2ND ranked in Class (LG02/2019) in Germany, with a world class pedigree from both parents. Correct size, titled in schutzhund (SchH1/IPO1/Kkl1), recommended to breed, excellent natural protection ability for her family, loves children. A happy dog, fun, confident, self assured dog. Ready to please and ready to play attitude. Excellent with family and children. She is absolutely clear in the head, safe nature with stable nerves. The g-daughter of

WORLD CHAMPION

VA1 Schuman von Tronje!





Puppy Breed Value

:

86

(Super Breed Value---!!)
Note: ZW Breed Value less than 100 are the most desirable. More Info Here.

registration

Germany

titles
SchH1/SchHI/Ipo1/IpoI/Kkl1/A1/A1/SG2
hips
(a2) Fast normal - Good
elbows
(a1) normal - excellent
breed value

(ZW info)

94

- Excellent Breed value

(zw-Zuchtwert)

status
2ND in Class, GErmany 2017!
database pedigree
German Import Puppies - SV/Pink Papers

German shepherd puppies

| | |
| --- | --- |
| country of birth | Germany - günbil Imports |
| litter status | show - breeding - protection - naturally family |
| database pedigree | pink papers from Germany & AKC (SV/AKC/DBP) |
| date bred | May 22, 2019 |
| date will born | July 24, 2019 |
| litter size | N/A |
| available puppies | Will Post When Born |

German shepherd puppies for sale

Delivery Date
October 11, 2019
have questions

Please call us at

720.733.0222

reserve puppy
pURCHASE pUPPY - cLICK hERE
pictures

will send picture

@ 10 weeks old

---
| | | | | | | |
| --- | --- | --- | --- | --- | --- | --- |
| World Class German Shepherd Dogs | | 720.733.0222 | | | | |