Working German shepherd puppies

We offer German shepherd puppies in two Continents, North America and Europe (Germany) in bringing you the absolute "BEST" German shepherd puppies for sale in the world, from the current world class, world famous and "world champion" German shepherds.
The real German shepherd come from Germany. The home of the world champion every year, and year... Simply put, The BEST in in the world, guaranteed!
We are NOT a puppy broker, the puppies we breed are from our registered "Günbil" and partner kennels in Germany - Bred in Germany!!
Our Purebred puppies come with great dispositions, social behaviors, have natural protection drives to compete in any arena world wide. - We guarantee your Gunbil puppies are reliable in temperament, highly intelligent, extreme endurance ability, powerful, strong, sound structure, with steady nerves and safe in nature.

We believe in our "German Shepherds" breeding program, you should too!

Best German shepherd puppies

-

in world
April 24,

2021

Ready to go

5,888.00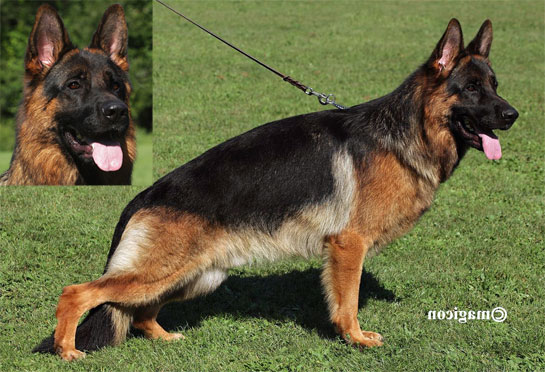 SG1 Warrior
World champion
registration

GSKC/SV/AKC (pink papers)

working titles

⁇

SCHH3/IPO3/IGP3/KKL1/A1/A1/VA1
hips
(a1) Normal - Excellent
elbows
(a1) Normal - Excellent
hip value

⁇

84

- Excellent healthy hip value
show titles
World champion 2019 (JKR/BSZS)
breed survey

⁇

Judge Evalution Report (KKL1):

Large, full of substance, masculine overall appearance, solid structure, incredibly good expression, richly pigmented. Commendable black over the back, expressive male head, high, pronounced withers, straight back, good position & length of the croup. Long, very well positioned upper arm, very well angled hindquarters, correct front. Straight sequence of steps with well-balanced effective replenishment gait, distinctive fore-chest. Very good character, safe nature, stable nerves. Recommended for Breeding (Exemplary type stud).
World class German shepherds
Warrior, is the current "World Champion", Best in the world 2019 (Young Class, Germany). Full working title in IPO3/SchH3! Excellent overall type, Super pigmened (black/red), very healthy pedigree from both parents. Warrior, has stable nerves, safe nature and clear in the head" character.
Warrior, is the son of Twice (2X) "World Champion" Asap v. Aldamar (SG1/V1/VA3 ).
Laura, A truly a world-class pedigree with excellent health value coming from both parents! A strong, masculine female, big, titled in schutzhund (IPO), (will get her korung in 2021) with excellent hips/elbows. A self-assured and confident, happy dog, fun, ready to please and ready to play attitude. Excellent with family and children. She is absolutely clear in the head, safe nature with stable nerves.
Laura, The g-daughter of Three Times (3X) "world champion" VA1 Zamp vom Thermodos (SG1/VA1/VA1)
Note: Hip Value (ZW) less than 100 are the most desirable. More Info Here.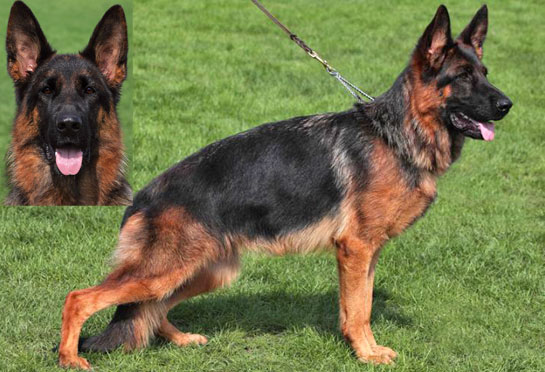 SG1 Laura
-
(1st in class)
registration

GSKC/AKC/SV, Germany

working titles

⁇

SCHH1/IPO1/IGP1/A1/A1/SG2
hips
(a1) normal - excellent
elbows
(a1) normal - excellent
hip value

⁇

82

- Excellent healthy value

(zw)

show titles
1ST in class, Germany LG14
breed survey

⁇

Character Evalution Report (KKL1):

Exemplary size, strong, spirted, very well pigmented, type and expressive female. Strong head, high withers, firm, straight back, very well angulated croup position, Very good fore-chest, very good hindquarters, correct angulation, correct front. Powerful gait with locomotive advancing gait. Safe nature. TSB pronounced. Recommended for Breeding (Exemplary breeding type female). Note: Due to Covid 19, We will get her "Breed Survey" in 2021.
country of birth
Germany, GSKC/SV/AKC
litter status

⁇

show, breeding, family, protection
puppy guarantee

⁇

Five (5) year health & temperament
puppy pedigree
Germany, GSKC/SV/AKC (pink papers)
puppy hip value

⁇

83

- Excellent healthy hip value
date will breed
December 10, 2020
date will born
February 11, 2021
litter size
Will post when born
available puppies
Sorry Sold
German shepherd puppies for sale
Delivery Date
April 24, 2021
have questions

Please call us at

719.220.2222
reserve puppy

sorry - this liter is sold

pictures

will send picture

@ 10 weeks old