German Shepherd breeder, breeding German Shepherd Puppies in Colorado.
Izzet and Amy Günbil (1999)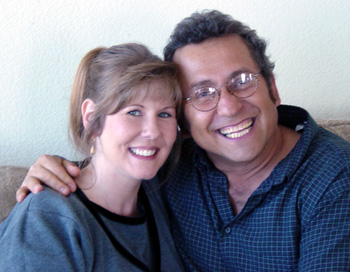 Izzet and Amy Günbil (2010)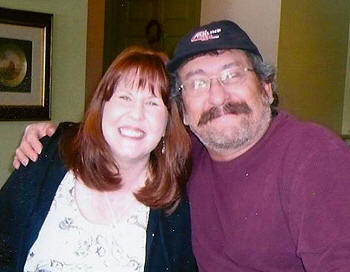 Izzet and Amy Günbil (2020)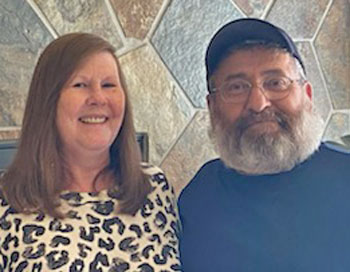 It is not just a hobby for us, it is our passion, a commitment of excellence, perfection with knowledge, a dedication that start with the breeder and their breeding stock of superior German shepherd males and females. We believe in our German Shepherds breeding program, you should too!
Aidan Günbil (2005)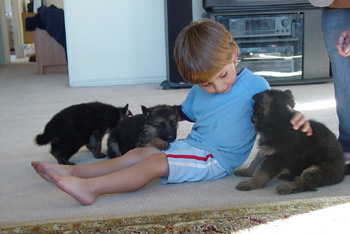 With our three registered kennel in Colorado (
Team Günbil
,
vom Haus Günbil Rochele
,
von Günbil Ranch
(
Arbeitshunde
) and our training and breeding facilities in USA (
von Günbil.
) In Colorado breeding program we have over 22 years of experience in working, showing, training and breeding the German shepherd dog.
Aidan Günbil 2004
Our Philosophy:
At world-class German Shepherds, a division of Gunbil German shepherds, we believe the most beautiful German Shepherd is nothing without the ability to work, this is the important characteristic of the breed, which is often overlooked. The German Shepherd is a "working" dog. He must possess this desire with confidence, clear in the head courageousness, the ability to adapt to any situation, be prepared to protect and defend his territory, attack only when given a command by his owner, an obedient, pleasant family companion.
The German Shepherd is devoted to his family and home, have an excellent character for socialization with other animals, a passion to interact with humans, especially with children. A true family member with robust health. A faithful companion and most often your only best friend. A Harmoniously balanced dog with nobility, ready to explore, ready to please, proud and self-assured with un-matched loyalty. If your dog does not possess the qualities mentioned above, you have a lovely pet, not a real "Günbil German Shepherd Dog".
Written by: Izzet P. Günbil
Our passion with pride: Hello, we are the Günbil family and like my son on the left (Aidan Günbil), I also grew up with the love of this magnificent breed the German Shepherd dog.
My dream as a child was to become a German shepherd breeder, of course people that knew me thought that this was only a young boy's fascination and surely he would grow up in pursue of other goals. What they didn't realize is that my first German shepherd puppy named Dingo, left me with a memory that I would cherish a lifetime.
At Gunbil German shepherd kennels in Colorado and Germany our priority is in our dogs, breeding this magnificent breed is a privilege and an honor. Breeding the German Shepherd dog is not just a hobby for us. It is our "passion", a commitment of excellence, perfection to you and to our dogs, with knowledge, a dedication that start with the breeder and their breeding stock of superior German shepherd males and females.
Our location worldwide! We operate in Two Continents, North America and Europe in bringing you the absolute "BEST" from the "World champion German shepherd puppies" and "world champion German shepherd dogs" in the world!
World class German Shepherd Imports, our import division from Germany. Our import puppies come from parents that are "world Champions", and/or Top VA's (Excellent Select) GDS's from Germany - THE BEST POSSIBLE RANKING in the world! The "Excellent Select" (VA) German shepherd dogs we offer and/or breed with are the "Real VA (world champion), Excellent Select German Shepherd Dogs, Ranked in Germany", not in US or Canada! Our headquarters is in Denver, Colorado, USA.
We have two divisions in Germany. Our kennels in Ge: At Günbil German Shepherd breeder we breed the "west German" working show line German shepherd dogs to improve the world-class standards in quality, genetics, anatomy, conformation, disposition and health of our German shepherd puppy. At Gunbil German Shepherds, we have the expert knowledge of the pedigree profile of our dogs, genetic research in temperament and psychological history profile, intensive health back ground information on key health issues, most of our German shepherd dogs are proven in all phases of "titling".
Schutzhund - 1, 2 or 3.
Breed Certification (approved for breeding by a breed warden).
Show Certificates and/or show ratings (judged in Germany).
Hips Certification - Hips certified.
The over-all structure
Superior temperament guaranteed in our German shepherd puppy
Natural working ability
Genetic value
Our Dogs are registered with the American Kennel Club, and/or Purebred Kennel Club / German shepherd Kennel Club and the German Kennel Club in Germany (Verein für Deutsche Schäferhunde (SV) e.V).
Our import puppies come with strict German SV Standards and working heritage set forth through the German Shepherd Kennel Club (Germany). We breed healthy parents having a lifetime health and breed value is the backbone to a healthy breeding program of superior breeding stock with one of the best and most successful German shepherd breeding programs in the world!
Our breeding knowledge and expertise: As a professional German shepherd breeder we are aware that not all world champion German shepherds produce world class puppy all the time. We strongly belief that your chances will improve with an established German shepherd breeding pair as the foundation and the strength of your German Shepherd Puppy Breeding program. We research and study both parents, their offspring's, genetics, health and if possible any genetic faults in the life span of the German shepherd dog.
We focus on many key points, but most importantly, the character behavior drive and character traits of the German shepherd dog must meet all phases of the sound temperament "CLEAR IN HEAD", trademark. This is a proven factor in the genetics of the pedigree of the German shepherd.
The character is the fuel of the bloodline genes. Each dog is unique in a special and personal way. It is the "pedigree" and character behavior of the dog, the ability to be titled in all phases of Schutzhund, must be approved by a German shepherd breed warden "certified for breeding" and naturally "sieger show quality" with a show record, that makes the distinction when breeding or choosing your German Shepherd Puppy.
In order to achieve positive results you must know your German Shepherd Dog first hand. This will enhance your personal knowledge of your dog and help to determine if she/he is breeding material that is suitable for an outstanding world class German shepherd puppy."
Our breeding knowledge and expertise:
Health, Hips and/or Elbows clear or (certified)
Temperament (sound and clear in head)
Conformation (Show Quality, including show standard in size)
Working (sports/schutzhund/titles)
Color pigmentation (deep black and rich red pigment)
Intelligent, fast learners, Eager to please their owners and family, including children
Well socialized with other dogs. Possess self-confidence without aggression in social environment. Naturally protective of their surroundings, not excessive.
FIVE YEAR GUARANTEE: We're so confident in our world class Gunbil German shepherd breeding program that we can offer you a 5 (FIVE) year genetic health and temperament guarantee! Our five-year guarantee is for your peace of mind, our commitment to you and your new puppy/dog.
If you need further assistance please let us know, as we are here to ensure that we exceed your expectations, hope you will enjoy your tour and we hope that you will consider one of our world famous and world class German Shepherd Puppies.
"We believe in our German Shepherd Puppies breeding program, you should too"!
At Gunbil German shepherds - We reserve the right to decline purchase if we feel it's NOT a suitable match for our puppy/dog or the potential client.