Trained German shepherd puppies

From our Gunbil German kennels (and German partners), we offer German shepherd import puppies direct from Germany with SV "Pink Papers.
World-class imported German shepherd puppies, from the current world champion German shepherds, the absolute best in the world! Our purebred import German shepherds are imported from Germany, the original country that created this magnificent dog breed. The parents of import German shepherd puppies are titled in schutzhund, working title, rated excellent in show, with breed survey (Koerklasse Kkl1) "recommended for breeding".
The breed evaluation is highly detailed analysis of the dog's structure, temperament, pedigree and both hip and elbow certification rated good and adequate performance on an endurance test (AD), recommended and evaluated prior to breeding by a certified trained and recognized "expert German shepherd breed warden" as to the worthiness of the breeding. The imported pups come from highly trained, world champion and schutzhund titled parents, this allows us to exceed the excellence of the breed at a superior level of our imported puppies from German breeding.
You can be sure our import puppies are reliable and guaranteed in temperament, highly intelligent, extreme endurance ability, powerful, strong, sound structure, with steady nerves and safe in nature.
We believe in our German shepherd import puppies breeding program, you should too!
---
Import puppies
-
Available
January 10,

2023

Ready to go

4,888.00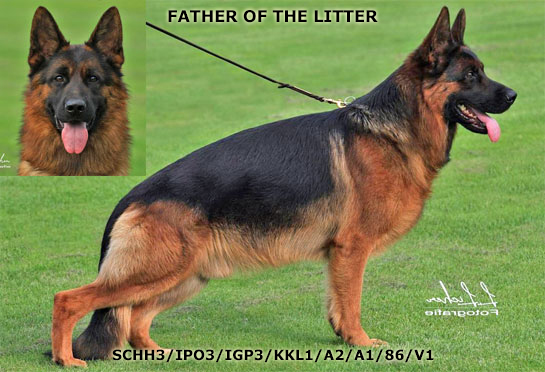 SG1 Chapeau
(Champion in Class)
registration

AKC & SV, Germany (pink papers)

working titles

⁇

SCHH2/IPO2/IGP2/Kkl1/A1/A1/V2
hips
(a2) Fast Normal - Good
elbows
(a1) Normal - Excellent
breed value

⁇

89

-

Excellent healthy breed value

show titles
5X champion (LG Class)
German Shepherd Import Puppies
Chapeau, is champion 5X champion in class (Germany). Excellent over-all type, correct anatomy, desired young stud with full titles. Excellent pigmented (black/red), exceptionally healthy pedigree from both parents. Full working titles with stable nerves, safe nature and clear in the head" character. We are very excited in this breeding.
Chapeau, is the grandson of "Triple (3X)" "World Champions" VA1 Zamp vom Thermodos and VA1 Remo vom Fichtenschlag.
Yaki, i 5th ranked in :G class in Germany! Working title of SchH1/IPO1/IGP1! Large bodied, substantial female, ideal type (BIG) very nicely pigmened (black/red)with srk eyes, very healthy pedigree from both parents. He has stable nerves, safe nature and clear in the head" character.
Yaki, is the daughter of "Triple (3X)" "World Champions" VA1 Willy vom Kuckucksland and granddaughter of 3X world champion VA1 Yaki vom Lärchenhain.
Note: breed value (ZW) less than 100 are the most desirable. More Info Here.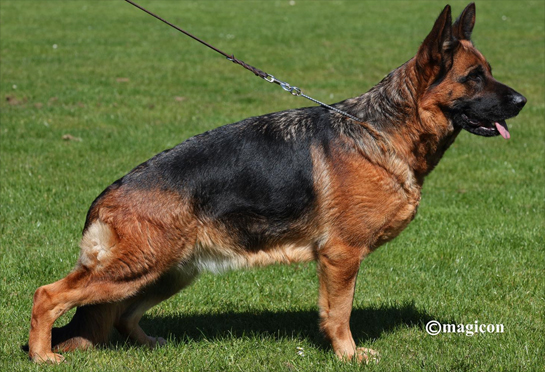 registration

AKC & SV, Germany (pink papers)

working titles

⁇

SCHH1/IPO1/IGP1/Kkl1/A1/A1/V9
hips
(a1) normal - excellent
elbows
(a1) normal - excellent
breed value

⁇

73

-

Super healthy breed value

show titles
5TH ranked in class
country of birth
Import puppies from Germany
litter status

⁇

show, breeding, family, protection
Guarantee

Five Year

Health & Temperament
puppy pedigree
AKC & SV (pink papers)
pup breed value

⁇

81 -

Excellent healthy breed value

date bred
August 25, 2022
date born
October 29, 2022
litter size
6M/3F
available puppies
4 Males 2 Females
German Shepherd Import Puppies for sale