Imported German shepherd puppies

From our German kennels, we offer puppies imported directly from Germany. From world-class German shepherd import puppies in the world. Our import puppies parnets are titled in schutzhund, rated excellent in show, with breed survey (Koerklasse I) "recommended for breeding". The breed evaluation is highly detailed analysis of the dog's structure, temperament, pedigree and both hip and elbow certification rated good and adequate performance on an endurance test (AD), recommended and evaluated prior to breeding by a certified trained and recognized "expert German shepherd breed warden" as to the worthiness of the breeding. The imported pups come from highly trained and schutzhund titled parents, this allows us to exceed the excellence of the breed at a superior level of our imported puppies, German bred.
You can be sure our import puppies are reliable and guaranteed in temperament, highly intelligent, extreme endurance ability, powerful, strong, sound structure, with steady nerves and safe in nature. We believe in our German import puppies, you should too!

World Champion Import Puppies

-

for sale
February 8,

2020

Ready to go

3,888.00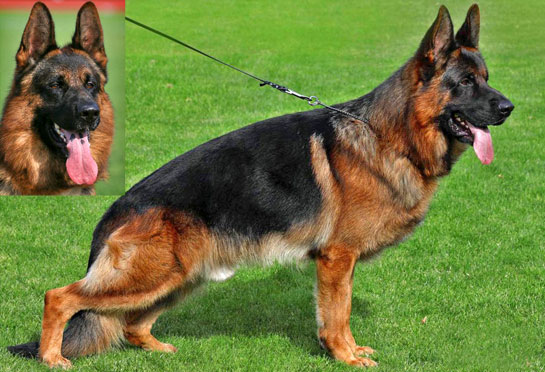 Nero
2ND ranked in the world
registration

SV, Germany (pink papers)

working titles

⁇

SCHH3/IPO3/IGP3/KKL1/A1/A1/sg4/V1
hips
(a1) Normal - Excellent
elbows
(a1) Normal - Excellent
hip value

⁇

72

- Super healthy hip value
show ranking
2nd in the World (BSZS)
breed survey

⁇

Judge Evalution Report (KKL1):

Powerful and substantial, very good expression, very well pigmented, intense black parts on the back, very good overall strength, expressive, strong head, dark eye, high, withers on the stand and in motion. Uniform course of the top and bottom line, good length and position of the croup, well positioned, long upper arm, very well angled hindquarters, correct front, well balanced and spacious gait. Safe nature. TSB pronounced. Recommended for Breeding.
German shepherd breeding pair
Nero, is "2ND" Ranked in the world! Safe nature, clear in the head character with stable nerves - Gun sureness, self-confidence, self-assured dog! The son of "World Champion" VA1 Gary vom vom Huhnegrab.
Gritt, large female, confident and poised dog. Absolutely clear in the head, safe nature dog and stable nerves. Ready to play and ready to please attitude, superior natural protection ability if needed. Harmoniously formed female with exemplary head formation, very good expression with desired pigmentation. The g-daughter of "Three Times World champion" VA1 Zamp vom Thermodos
Puppy Breed Value: 80 (Super Breed Value!)
Note: ZW Breed Value less than 100 are the most desirable. More Info Here.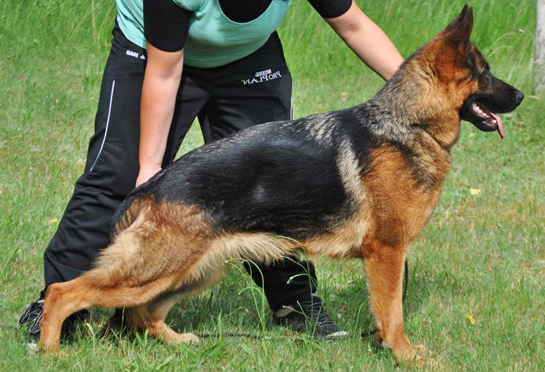 registration

SV, Germany (pink papers)

working titles

⁇

SCHH1/IPO1/IGP1/Kkl1/A1/A1/SG2
hips
(a1) normal - excellent
elbows
(a1) normal - excellent
hip value

⁇

76

- Super healthy hip value

(zw)

status
4th in Class, Germany
breed survey

⁇

Judge Evalution Report (KKL1):

Large, ideal type and expressive, very well pigmented female. Very strong, expressive head with dark eyes. Good withers, straight back, slightly sloping croup of good length. Good at the front, very well angled at the back, harmonious breast formation, absolutely correct front. With a straight sequential gait, fluid and spacious, strong motion, very powerful. Confident and Safe Nature. TSB pronounced. Recommended for Breeding.
| | |
| --- | --- |
| country of birth | Germany - Gunbil Imports |
| date bred | September 14, 2019 |
| date born | November 14, 2019 |
| litter size | 4 M / 4 F |
| available puppies | Sorry, Sold |
German shepherd puppies for sale
Delivery Date
February 8, 2020
have questions

Please call us at

719.220.2222
reserve puppy

sorry - this liter is sold

pictures

will send picture

@ 10 weeks old

When you consider your import puppy selection from von Team Gunbil German Shepherds in Frankfurt (area), Germany and from our vom Haus Gunbil Rochele in Munich (area), Germany, you are truly getting the BEST possible German shepherd i
mport puppies
in the world. We are so confident in our breeding program that we can back-it-up with a FULL FIVE YEAR (5 YEARS) HEALTH and TEMPERAMENT guarantee.
We believe that all breeders should be this confident and have trust in their breeding program as we do and offer an identical 5 YEAR guarantee as mention above. After-all when you claim to be the BEST, you should back it up with a service that supports your character and your integrity. Our five year guarantee is for your peace of mind, our commitment to you and your new puppy/dog.