Trained German shepherd puppies for sale

We offer a five year "honest" guarantee: We're so confident in our World Class Gunbil German shepherds breeding program that we can offer you a "WORRY FREE" FIVE YEAR genetic health and temperament guarantee! In the event that the guarantee is honored, Gunbil German Shepherds will provide another dog of the same quality, age, gender (of choice) and value. We do not ask that you return the original dog to us. Our five year guarantee is for your peace of mind, our commitment to you and your new puppy/dog. For more info, please click here.
Puppy Imprinting and Socialization Program begin at puppy-hood. This early training provides your puppy a head start in their new life! There is a special period of learning that occurs during puppyhood, which enables young dogs to quickly absorb information about their world and how to react to it. Each experience defines your puppy's future behavior and dictates how they will respond to humans. At our Purebred Puppy Training Program we teach young dogs to see humans as their leader, understand rules and boundaries, and imprints each foundational command upon which all future obedience skills ar
Our trained puppies come with house training, crate training, socialization skills with children, adults, other animals, including dogs. Object orientation in building drive with motivation to perform. Our trained puppies live with our families and our children, with regular bathing, trimming of nails and cleaning ears. Our trained puppies are introduced to stairs and slippery floor environment as well. Your puppy will be trained in: Follow the leader/Play/Focus, Learn to walk at a heel on leash, Heel, Sit, Stay/Sit/Down/Sit/Down (repeated), Come.

EXCELLENT FOR

show, family, family protection

- GUNBIL IMPORTS GERMANY!
5 year

guarantee

6,888.00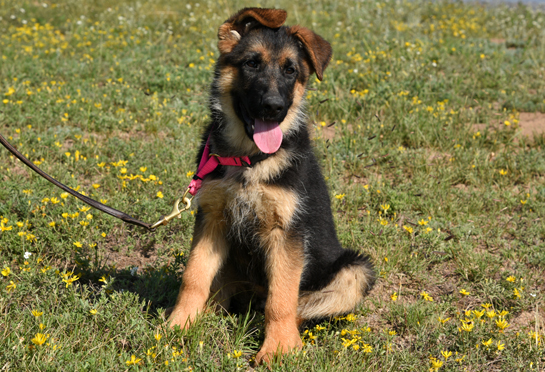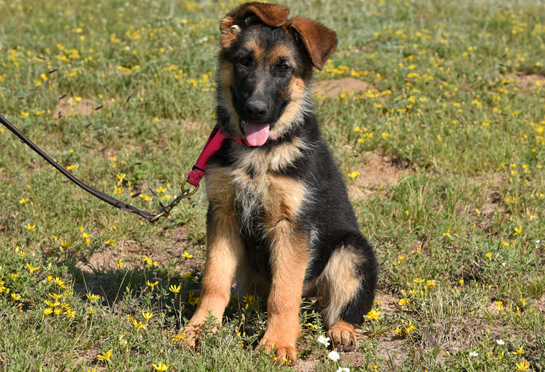 Stella- Gunbil Bred
- Trained German shepherd puppies
date of birth
June 8, 2018
country origin
von Gunbil Kennels (Colorado, USA)
gender / MC#
Female MC# 956000007704761
Pedigree Status
american kennel club (akc) & database pedigree
Training

OBEDIENCE TRAINED, CRATE & POTTY TRAINED - EXCELLENT SOCIAL SKILLS, VERY FRIENDLY AND HAPPY PUPPY!

PEDIGREE PROFILE
--> pedigree and more pictures, click here <--
COLOR
BLACK AND RED
COAT TYPE
PLUSH COAT, COATED (LANGE HAARE)
intact
n/a
recomended
SHOW, SPORT, FAMILY, FAMILY PROTECTION
training info
training information - please click here
shipping

free shipping

to any major us airport
Stella, is an excellent puppy with bold and ready to please attitude, would be an ideal dog for show, breeding and a superior quality family pet! Excellent healthy pedigree, absolutely correct type, stable nerves, sound temperament (Clear in the head) character. Very friendly puppy. She is familiar with walking up and down stairs, walking on tile, hardwood and carpet surfaces as well as going for car rides. Stella, loves children and plays well with other puppies. She is very intelligent and loves to please. She should do well in any endeavor. Pedigree is consistent of multiple world champions, Granddaughter of twice world champion SG1/VA1 Zamp vom thermodos (Twice World champion).
Your puppy come with a FIVE year "Genetic Health" & "Tempermant" Guarantee!
questions?

Questions, Please Call

720.733.0222
pupurchase

sorry - this liter is sold

MORE PICTURES