German Shepherd Import Puppies From Von Team Günbil In Niedertrebra, Germany, SV Registered, Imported Puppies!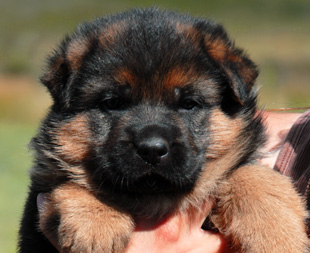 Welcome to German Shepherd import puppies from our Kennels in Bayer, Germany, our import division from Germany. Our vom Haus Gunbil Rochelel import puppies come from parents that are "world Champions", and/or TOP VA's (Excellent Select) GDS's from Germany. These excellent select German shepherd dogs (VA ranked) are the "REAL" VA ranked (Excellent Select Ranking) German shepherds! Our dogs and registered with the Verein für Deutsche Schäferhunde and vom Haus Gunbil Rochele German Shepherd Dogs in Bayern, Deutchland (Germany).
Our vom Haus Gunbil Rochele Show Class German Shepherds in Germany are fully titled in schutzhund, Hips and Elbow are certified, certified with breed value and breeding recommendation from a specialty German shepherd judge (Breed Warden), that our dogs are certified and recommended to breed (Kkl1) with solid and stable nerves, clear in the head temperaments.
Our Dogs are registered with the American Kennel Club, and/or Purebred Kennel Club and the German Kennel Club (Verein für Deutsche Schäferhunde (SV) e.V). We offer world class import puppies with strict German SV Standards and working heritage set forth through the German Shepherd Kennel Club. We breed healthy parents having a lifetime health and breed value is the backbone to a healthy breeding program of superior breeding stock with one of the best and most successful German shepherd breeding programs in the world!
With our two German Shepherd Kennels in Germany, our training and breeding facilities in USA, we have over 48 years of experience in working, showing, training and breeding the German shepherd dog. It is not just a hobby for us, it is our passion, a commitment of excellence, perfection with knowledge, a dedication that start with the breeder and their breeding stock of superior German shepherd males and females. We believe in our German shepherd import puppies breeding program, you should too!
We Believe In Our German Shepherd Import Puppies Breeding Program, You Should Too!