MICRO CHIP YOUR GERMAN SHEPHERD DOG
The heartbreak of a lost dog can be devastating to the owner. There are an overwhelming number of dogs that end up in rescue and shelters and eventually with new owners or put down because the original owner could not be found. It is a good idea to do everything we can to provide the proper identification for our dogs in the event that they get lost.
The microchip is an advanced pet identification system
The microchip provides a permanent means of identification that remains in place.
It cannot be altered or intentionally removed (without the services of a vet).
A microchip with an identification code is implanted between the shoulder blades of the dog. It is about the size of a grain of rice.
A licensed veterinarian or someone experienced (many breeders do this and help out at micro chipping fairs) should do the micro chipping.
It is a simple procedure and is very similar to the administering of a vaccine. The chip is implanted under the skin between the shoulders of the dog. You cannot see the chip once it is implanted in the dog. Once implanted, any vet can read the chip I.D. number with a scanner.
Some vets have scanners that are not universal but their scanner should still be able to indicate the presence of a chip so you can go to another location where they have a universal scanner.) Thus leading to the return of the dog. All reputable breeders microchip their puppies before they are sold. Long-term testing has shown that the microchip is safe for your dog.
Once the dog is chipped, you fill out a simple form that your veterinarian provides and send it in with a check, usually under $15.00, to register the chip number. The information is then entered in a database. Changes in dog ownership are easily updated in a registry's database.
Of course, all dogs should wear collar identification when not at home. There are a variety of dog tags ranging in price, and various types of tags such as the Pet Scope tags. Some people write their dogs information on a piece of tape inside the dogs collar. There are embroidered collars that you can put the dog's name and telephone number on. (Many people feel you should not include the dog's name since this is a piece of information which will assist you in proving ownership if a thief does not know the dog's name. This is a call you must make for yourself.) However, tags and collars can come off.
Tattooing dogs is another means of dog identification. Tattooing can blur over time, making it very difficult to read and a tattoo can be altered.
At Gunbil German Shepherd we tattoo our "show" dogs on the right ear as this is acceptable in Germany and in most GSD clubs world-wide, the right ear is preferred for the implementation of the tattoo.
We are aware of dog's having their ears cut off by dog thieves in order to remove the identification but we must tattoo our dogs in order to show them in major dog shows around the world.
Microchip Scanner (UNITED SCHUTZHUNF CLUB OF AMERICA)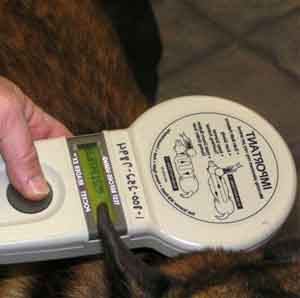 universal micorchip scanners Microchips are an alternative to tattoos for trials and shows. One issue is that the chips used in Europe and those used by American companies such as Home Again or Avid use different formats. Nathanial Roque has found a vendor of a reader that can handle both chip formats. This ensures that you can read a chip from an imported dog and still read the domestic chips. This scanner can also be rented on a weekly basis.
As many of you know I placed a motion with USA to allow micro chips to be allowed for identification in USA events.
Some clubs and members have been asking about getting a scanner that will read the chips and one of my club members found this unit available and we have one at our club now. It is an excellent unit and well made. It will read all of the European and domestic chips. We have used it at our events and our regional and it worked well on chips from the Netherlands, Belgium and both Home Again and Avid.
This Swiss-engineered reader is in full accordance with ISO Standard 11785. With the ability to read both 125 kHz 10 digit and the 134 kHz 15 digit microchips. It is truly the most universal reader available today. If your pet does not have the proper microchip (also known as "transponder") you run the risk that the immigration authorities in that country will not allow you to enter the country with your pet. Our scanner is universal, and reads all transponders operating at 125, 128 or 134.2 kHz. To avoid any problems you can carry your own scanner which weighs less than 4 ounces and will then allow the immigration officer to read the transponder in your pet.
A microchip is about the size of a grain of rice. It consists of a tiny computer chip housed in a type of glass made to be compatible with living tissue.
If you have questions or comments that you would like to share, please
EMAIL US
Please do not use our website to attempt to diagnose or treat your pet. The consultation with your veterinarian is the best source of health advice for your individual pet. You should not rely, on the veterinary advice or any other information provided on this site for the diagnosis or treatment of any specific condition. You should always consult your own veterinarian for specific advice concerning the medical condition or general treatment of your pet. Günbil German shepherd dogs, worldclassgsd.com and or Günbil German shepherds, accepts no liability related to the veterinary advice and information provided on this site regarding health matters.
GSD RESOURCES
For Sale
Purchase Options
Dog Food Supplements
client and photo gallery
Helpful Links